A lot of people are talking all kinds of diets, fads, "health drinks" and other such things. It's no secret that my husband and I have been on a health quest, walking, getting more fit, and the like. We've been trying tons of new recipes, some within those "diet" preference kinds. We try some, just because they sound good!
We love lots of vegetables, and trying vegetable recipes.
We were once "accused" of believing that salad was dessert because we eat so much of it.
We do love our salad.
---
For Easter, I intended to use a Mock Mashed Potato recipe we've used for Thanksgiving before, but discovered at the last minute that I lacked many of the ingredients, except the cauliflower. Sometimes we like roasted cauliflower, and one of those favorite recipes was in the running for a last minute change of plans, but I decided to go rogue and create my own recipe instead.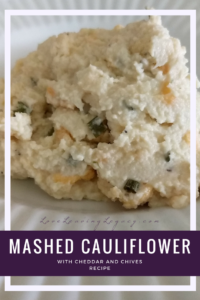 In the interest of keeping it real and not so Pinterest worthy, because real life is messy and I can be a hot mess, I forgot to take a before photo.
You are stuck with our leftovers photos!
I'm not that sorry, honestly.
Sometimes the phone camera just needs to stay put away.
As you can see, it was heartily eaten.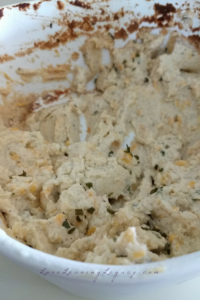 ---
Mashed Cauliflower With Cheddar and Chives~Serves about 12-16
4 heads of cauliflower cut into bite sized chunks and steamed
1 stick of butter
1/2 cup non fat Greek yogurt
1.5 cups of shredded Cheddar
2 tsp garlic powder (I added more than this once I tasted it though.)
2 tsp dried chives
3/4 tsp chicken broth powder, low salt, no msg
1/2 tsp pepper (add more or less to taste but that is where I started)
Steam cauliflower and blend in a food processor with a stick of butter. Add yogurt and seasonings and process until blended. Pour into a baking dish and stir in shredded cheese. Bake at 350° until warmed through, cheese begins to melt, and slightly brown on top. Serve hot.
---
We served our Mashed Cauliflower with a spiral ham, glazed, from Hickory Farms. We also had the freshest deviled eggs after our own homegrown eggs were laid by our very own chickens a day or two ahead of Easter. My youngest daughter and I did a fun activity making Resurrection Rolls.
My mother in law contributed roasted asparagus, salad, and a potato casserole. She also made an iced lemon cake for dessert.
We had a lovely Easter!
What is your favorite Easter food?
Blessings,
Deb
Don't forget the April Customer special and Flexi of the Month!