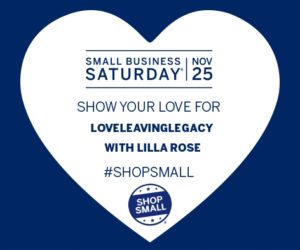 We may earn money or products from the companies mentioned in this post.
I've said this before here on this blog, but I just posted on Sassy Direct: "LoveLeavingLegacy with Lilla Rose is a small family business. At vendor events and Style Boutiques, I work alongside my children. They really are the Why  behind the reason we do the business, and it's not just to increase our family time. I use my small Lilla Rose business to teach my children hands on practical business skills as part of our homeschooling program. We also use our business to fundraise for waiting children with Down syndrome. (and we currently have a fundraiser Lilla Rose Style Boutique open for that!).  It also allows me to continue to stay home, and to look to the future. I want to be available to my children as they begin their own families, or to help them as they need it. I also want to do short term missions and to travel. So, building the business now is for our family and for my marriage! It is for our future, and planning for it begins now! "
That being said, I do a lot of our business online. The children aren't really part of that side of the business. I blog on Sassy Direct, on LoveLeavingLegacy, and manage social media business building. I supervise a growing team of Lilla Rose Stylists.
During this #shopsmall #smallbusinessSaturday, a business doesn't get much smaller than a family based website business! There is no store front to visit other than a website, the blogs, or the social media outlets! But that shouldn't discount personalized customer service and attention to detail one usually gets from shopping small!
So come join me (us!) as we offer you personalized customer service while you #shopsmall with LoveLeavingLegacy with Lilla Rose hair accessories!
The Black Friday sale and specials on the Lilla Rose website remain as awesome as ever. The sale actually contains items 10%-60% off, and some bundles are still available at the time of the writing of this post.
The Essential Set may be returning, so watch for it under the FB Live Deals tab! It's a perfect Lilla Rose Starter set, with all you need for everyday hairware. It includes one each of the following styles: Extra Small Bow Flexi, Small Celtic Knot Flexi, a Roses Hairband, with Brunette Elastic, a Chain for converting the hairband to a necklace, an 8 pack of Classic Nickel Bobby Pins, and a Swerve Single Upin in nickel. These items are also sold separately, just not for the fabulous limited offer of $34 at 60% off. 
If you are seeking to create your own bundle, the Adora flexi clip is still 30% off, and the Victoria hair band is 10% off. These two look absolutely stunning together, and would be a classy gift combination!
If you are seeking the holiday BLING, consider the $4/pair Crimson Joy bobby pins! Pair those with the 10% off Crimson Joy flexi clip, hairsticks, and/or Upins, and you have created your own gift set!
Look at this gorgeous purple Rose Set still available at 50% off! It's a great set for under $35!

---
If you need assistance from a personal shopper on this Small Business Saturday and desire to shopsmall, please do reach out to me. I'd love to help you get the best deals from the Lilla Rose website, and our family thanks you for trusting us with your business!
Blessings,
Deb