I'm not Irish, and I am not Catholic. Over the years I've not quite understood St. Patrick's Day, the green significance, clovers, luck, and leprechauns. Today, I did a quick little research.
St. Patrick was a missionary and patron saint of Ireland.

He used Irish symbols and rituals to teach Christianity to the Irish, especially Celtic symbols. He is said to have created the Celtic cross.

Today, in the United States, St. Patrick's day celebrations have to do with Irish American strength and commitment to their heritage, especially as ancestors immigrated to the United States.

St. Patrick used the clover to teach the concept of the Trinity.

Rainbows, pots of gold, and leprechauns were part of Irish mythology fables and stories.

Green, the color on the Irish flag, has been the traditional color of Irish nationalism since the 17th century.

Emerald Isle is a name used when referring to Ireland because of its lush greenery and countryside.

Green is often the color that symbolizes new life, birth, money, wealth, and health.
Sources:
---
How are you going to coordinate your St. Patrick's Day wardrobe and your hair accessories!?
Lilla Rose has quite a few Celtic styles in leather, braided leather, leather like Celtic knot or Celtic heart, Celtic knots in several metal finish choices and one with wood beads, a Celtic cross, and Trinitee. There are green options like Emerald Joy in a flexi clip, upins, bobby pins, hair sticks, and a hair band.
The new Flexi of the Month shown in the video, Cliono, will be released on March 1, 2018.
Come check out my website to see all the choices, as there are more from the sampling below, available beginning March 1, 2018, and some in Limited availability. Come join my Facebook page or customer group for more sneak peak previews, the latest on the customer specials, or upcoming sales!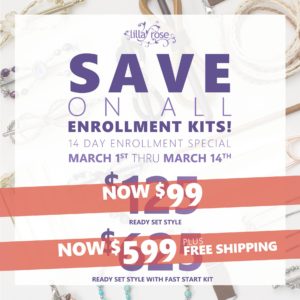 Need some extra green? 
Come over to my Builders group to learn more about this two week opportunity special. It ends on March 14th. 
---
Later this week, after working with me at the Women's Lifestyle Expo here in Kalamazoo, my two youngest daughters have the privilege of attending a Daddy-Daughter Dance with their Daddy.
The girls plan to wear the dresses they wore to their brother's wedding last July with their silver sparkly shoes, and sparkly jewelry.
Today my oldest daughter, who is 16 years old and loves to experiment with hairstyles, tried a new one on her middle sister who has thick, waist length hair. We're calling it a Dutch Braid Crown Bun. It is secured with Lilla Rose "naked" bobby pins (they are call Lux on the website.) On Saturday, the girls intend to use decorated bobby pins to decorate the bun, and show off the weave in the center of the bun where it is woven.
Lady L will actually be demonstrating how she did this at the Women's Lifestyle Expo on Saturday around 3 pm. Depending on how busy we are, maybe we will make a video of her doing it.
Sssh. Don't tell her. She hates being Live on video.
Which bobby pins on the Lilla Rose website do you think Missy E should place in her hair?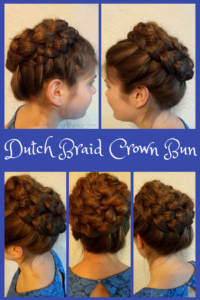 ---
Have a great week!
Until then,
Blessings, 
Deb