We've sort of had to live out of our storehouse and freezer lately, and needed to be super frugal with our food budget.  Being frugal with a food budget is tough for average sized families, but this is magnified with a larger than average sized family. I've learned that it's a whole lot easier to accomplish this if I have been working on a "storehouse" with dried good foods, canned or frozen foods from the garden we grew, or when there are really fabulous sales that stock the pantry. We actually have two stand up freezers. One is for frozen vegetables and cheese. Another is meats and pre-prepared meals and bread. We also have two refrigerators, each with a freezer. In our kitchen the small freezer is for the small things we need on hand immediately. The extra refrigerator and freezer contain items we need on hand for convenience sake, but not daily.
---
We may earn money or products from the companies mentioned in this post.
It's a good thing the weather is changing, and it's cooler. It means we want to eat soup!
Earlier this week, we cooked some pinto and black beans and prepared this large family version of crock pot Taco soup! It was so yummy, and with nine people eating, there were no leftovers!
Our tomatoes and sweet red pepper were frozen from our garden harvest. All ingredients are items that are purchased in bulk through out the year, except the ground turkey.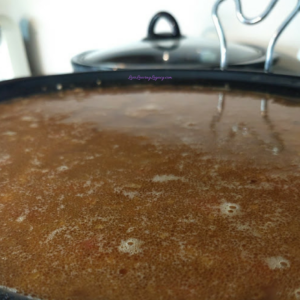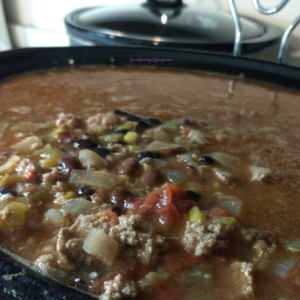 Soak and cook 2 cups of dried black beans, and 1 cup of dried pinto beans.
Brown 3 lbs of ground turkey, a large diced onion, a medium diced red sweet pepper, and minced garlic to taste (we love a lot of it.)
In an 8 quart crock pot, put the equivalent of four taco seasoning packets in (if you make your own). Add 2 quarts of stewed diced tomatoes in water, two 7 ounce cans of diced green chilis, 16 ounces of frozen corn, and the cooked beans. Add home made chicken stock until it reaches the top of the crock pot and can still put the lid on. Set the crock pot on low for the day, adding more stock if needed.
Serve with shredded cheddar and sour cream. Tortilla chips and salsa on the side or warm corn bread are nice side additions. Avocado would be yummy too!
---
Earlier this week, we did our fall rhubarb harvest from our own garden. One daughter cut the stalks into 1 inch pieces and filled an 8 cup measure, while another peeled and chopped 6 Gala apples. We threw it all into the crock pot with a couple of cups of water, a half cup of brown sucanat (brown sugar would work too), and a tablespoon of cinnamon. We put it on low, and let it cook to apple sauce consistency over night. The next morning, and all week, our three daughters topped a bowl of the sauce with oats, and reheated and ate this for breakfast.  They would add more cinnamon and brown sucanat to taste as they felt it needed. Rhubarb is very tart!
---
We may earn money or products from the companies mentioned in this post.
Budget minded people might like to consider how to bundle Lilla Rose products. Already assembled bundles are available on the Lilla Rose website, but you can also create your own! Have you considered how to pair similar style products together? Or to pair a head scarf with a pair of bobby pins or a flexi clip? How about a hat and a flexi? Or even a scarf and flexi. Here are some examples, as well as the November Flexi of the Month and November customer special.
Blessings,
Deb