We may earn money or products from the companies mentioned in this post.
We have two ducks. One is a Pekin male duck we call Peregrin, who at times is a comical and clumsy oaf. He can walk the ramp into the coop or the one to the pool, but often he needs help going in at night. For some reason, he can't understand going up the ramp at dusk. Our beautiful female duck, Jaymes, a Rouen, is loud and bossy. She herds the chickens into the coop at night, and she triumphantly sounds the alarm to head out into the run in the morning when the coop door opens. Watching the dynamics of these two is better than any evening television program, and provides for much comic relief. I never thought I'd enjoy ducks (or the chickens) quite so much!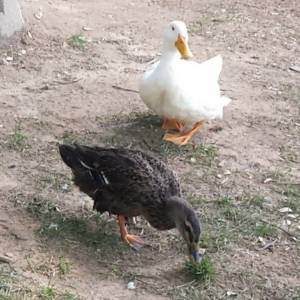 Only one or two of our young chickens has started laying eggs, and even with our four adult chickens, we've only been getting 1-3 chicken eggs/day. Jaymes has been faithfully laying an egg every morning for 15 days. We have never had duck eggs before, and were intrigued. Honestly, we weren't sure we'd like them and thought maybe they'd taste weird. We patiently waited for enough duck eggs to make a casserole so our whole family could try them at the same time.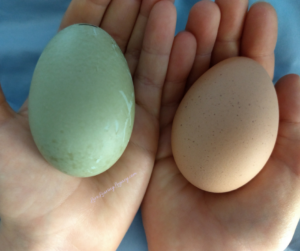 A-Grape and I cracked twelve eggs one by one into a bowl and whisked them. We observed that the consistency of the Rouen duck egg is more gel like than a chicken egg. We had to add milk to the mixture in order for the eggs to stir into the rest of the ingredients in our casserole because they are so thick. The egg shells were harder to crack than store bought chicken eggs. We also have noted that Rouen duck eggs are slightly larger than our Rhode Island Red chicken eggs. They fit in A-Grape's 9 year old palm.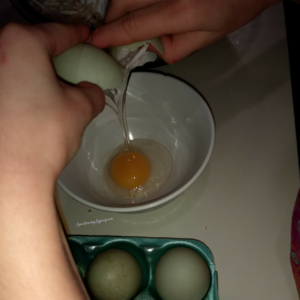 It was a lot of fun for our family to try something new, and quite honestly, it was fun to eat the eggs of the animals we've been caring for as they grew to maturity, and that we've been enjoying. The casserole was delicious. Adjectives used by the children to describe the casserole were that the eggs were "meatier", "thicker", and that, really, they didn't taste that much different than a chicken egg. A-Grape looked forward to eating a duck egg "just plain" for breakfast the following morning. She likes it so much, she is reluctant to share them with her other siblings.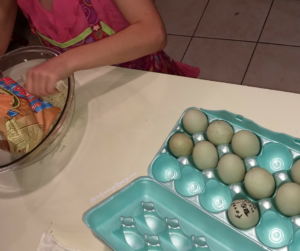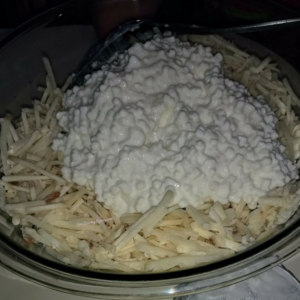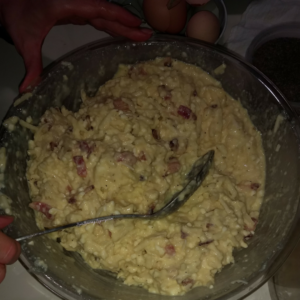 Here is our recipe for our Duck Egg Casserole.
---
Duck Egg Casserole
Ingredients: 
12 Duck Eggs, whisked
24 oz small curd cottage cheese
30 oz frozen shredded hash brown potatoes
1 lb turkey bacon crumbled/cooked with one diced onion
16 oz frozen broccoli
3-4 c shredded cheddar cheese
2+ tsp garlic powder (to taste, really. We use a lot more than 2 tsp)
Black pepper to taste
Enough liquid/milk to combine all ingredients together, approx 1-2 cups
Directions:
Stir all ingredients together, adding milk if needed. Pour into 15×11 greased Pyrex casserole dish. Bake at 350 degrees until golden brown around edges and throughout the top, about an hour. Serve with whole wheat bread or rolls.
Serves 8-10.
---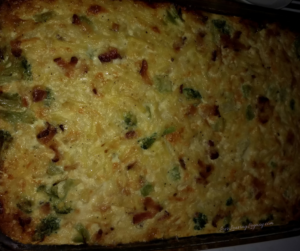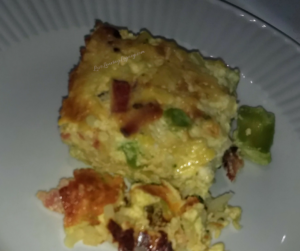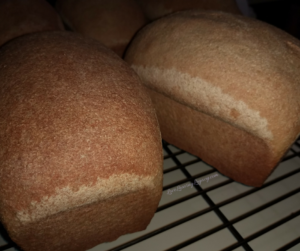 ---
I've been working with a couple of bloggers who have written reviews of Lilla Rose products. You can find them at Needed in the Home and Hair By Mallorie.
Blessings,
Deb
Until 10/31/17 or while supplies last: