Ten Tips To Get Ready For Back To School
I'm watching my southern friends send their children back to school. I love the first day of school photos they post. Many of my midwestern friends and east coast friends won't send their children back to school until the day after Labor Day. Fellow homeschool friends post first day of school photos, often even if they homeschool year round.
Back to school seems almost to be a holiday for some. We all crave routine and schedules, although many families are in so many activities that their school year schedules sound insane!
What can we do to get ready for Back to School? Here are some tips to assist in things going smoothly.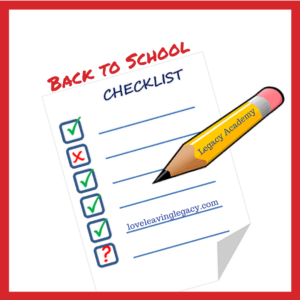 Begin an earlier bedtime routine two weeks before school starts.
Begin an earlier morning routine two weeks before school starts. Start with a checklist of healthy habits and chores that must be completed before our children head to their work areas, Mom's taxi, or the school bus.
Encourage children (and Mom) to have clothes laid out and backpacks or desk areas prepped the night before in order to start on time.
On Sunday night, choose five outfits for the week, complete with socks and hair accessories labeled Monday through Friday. That way, there is no looking for a missing sock as the school bus pulls up.
Prepare lunches the night before.
Prepare breakfast freezer meals so children are well nourished before the start of school.
Post a weekly schedule on the refrigerator so everyone knows what to expect. Be sure play time or hobbies that are not necessarily sports team or extracurricular class related in order for children to have time to be creative and to relax.
Two weeks ahead, be sure you've purchased all required school supplies for the year. New back packs, book bags, packs of #2 pencils, colored pencils, crayons, notebooks, and folders are always a fun way to start a school year fresh! I remember my Trapper Keeper fondly, as well as covering all my textbooks with paper bag book covers! 
 If you have girls, practice easy hair styles for quick styling, and for keeping hair out of their eyes, and away from head lice! Easy braids, pony tails, half ups, quick buns that aren't too tight are great options. Consider using flexi clips rather than strangling hair and promoting breakage by elastics, barrettes, claws, or hairbands that dig behind the ears. Hurting during school is such a distraction from learning! Aim for comfort. 
All Moms take a few minutes, pray, breathe, enjoy that hot cup of coffee, tea, hot cocoa, and breathe again. You've got this. Enjoy your children, enjoy the process, enjoy watching your children grow. You are blessed. They are blessed to have a mom getting them ready for another best year. Pray for your children. All too soon, they are graduated and married and starting lives of their own. Don't wish it away. I get that it's hard. We've had hard. Hard means pray more, breathe more, have faith in your children more and express that to them, even when they mess up. Did I mention pray? Breathe?
Take a few minutes on that first day of school just for you.

You've got this.
Have a great school year!
Blessings, and with love in Christ,
Deb