Eight Mother's Day Gift Ideas
When I was a little girl, we always, without fail, bought my Mom potted flowers for Mother's Day. She liked red geraniums. Once I was a teenager, as an act of service, I took over the front flower beds of my parents' home, managed them, and did all the weeding and planting. Eventually as an act of service for my father, I also added lawn maintenance to my list of summer chores.
Sometimes buying gifts for Mom, like a Mom, Mom to be, friends, etc, is difficult. Sometimes Mom just wants attention and everyone home. Some Moms like cards, especially handmade ones. Some love lunch out or a hike in the woods as a family.
Below are eight gift ideas for Mom!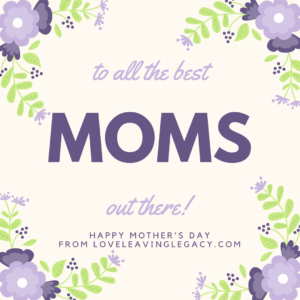 1.) In the LoveLeavingLegacy blog shop, there are many styles of scarves and wraps.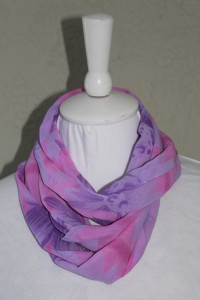 All look lovely with a Lilla Rose flexi clip adornment, and there are so many flexi clips to choose from! The just out today Floressa is an example!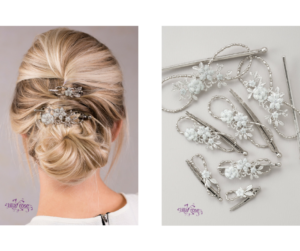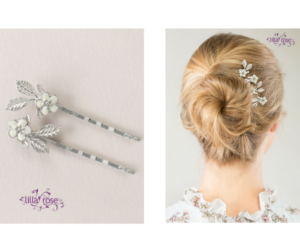 It just so happens that today through 11:59 pm PST May 3rd, Lilla Rose is having a 10% off sale of May's new releases with free shipping for $60+ orders, and a monthly customer special of a free pair of upins for retail orders over $75. The new Flexi of the Month, Floressa, and the coordinating bobby pins are stunning, and they are the flowers that require no upkeep by mom! 
2.) Lilla Rose products do give the gift of beautiful hair with minimum fuss! You'd be a hair hero if you gifted her some!
Some clips in this video are no longer available but the photos are representative of hair beautified with Lilla Rose. 
3.) Lilla Rose clips also work on hats, bags, and beach wraps. You could add a book by a favorite author for her relaxing trip to the beach! Or a gift card to the book store so she can shop for that book herself would be a nice afternoon out too.
4.) If your Mom is work outside the home mom who requires a name badge, is a quilter who likes her scissors close at hand, or doesn't like to carry a purse, but needs something to clip her wristlet or keys too, perhaps she would love a pretty lanyard!
5.) If the lady you are buying for likes manicures, pedicures, to color her hair, or massages, buy gift cards to her favorite salons or pampering products for her do it at home options. You could also support a local business who makes goat's milk soaps and lotion pampering products.
6.) A gift card to her favorite clothing store is a lovely gesture for a Mom's afternoon out alone.
7.) If she likes flowers, or chocolate, or handmade cards or acts of service, show her you love her and meet those desires and needs.
8.) Call the special lady you call Mom, or like a Mom on the telephone or write her a snail mail letter. Tell her you love her, appreciate her, and thank her for making you the person you are today.
---
Celebrate your Mom.
Life changes quickly, and we are never promised tomorrow.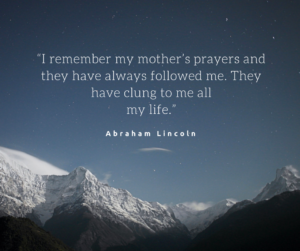 ---
Perhaps you are a lady who has entered a new season, for whatever reason. Perhaps you desire a change the way you are using your time, need help with finances, or want to mentor young ladies in small business. Maybe you are a blogger. Maybe you would like to consider a Lilla Rose business of your own, and gift yourself a business start up to promote online and in person.
I can help. I can point you in the direction of lovely group on women who support each other, train each other, and celebrate accomplishments.
I'd love to help you get set to bloom in this new season!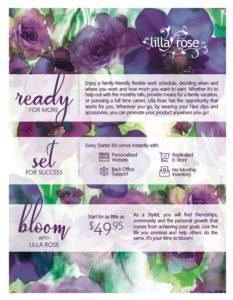 ---
I know that Mother's Day is often a subject and a day filled with pain for many. Not every one has a mom to celebrate.  Not all mothers value their children the way they deserve to be valued. Many have lost children, or have not been able to have a child. I'm not going to pretend that I understand the pain of rejection, abuse, or the extent of losses such as those. But, if you are broken, hurt, have lost your Mom, feel like you have missed an opportunity with your own children, I pray that you find a peace that passes understanding. I pray for a peace that leads to healing, grace, and forgiveness. Do your part to live a life without regret and to be in unity with others, even though this seems impossible.  Surround yourself with those who hold you up in sorrow and pain, and who will love you through it.
You are worthy.
You are deserving of support and love.
You are a son/daughter of a most High King.
The righteous cry out, and the

Lord

hears them;

he delivers them from all their troubles.

The

Lord

is close to the brokenhearted

 

and saves those who are crushed in spirit. Psalm 34:17-18
Blessings,
Deb 
PS. I need to go find red geraniums to ship to my Mom.
Mother's Day is May 14, 2017. Don't forget!