Do The Lilla Rose Flexi Clips Hold During Activity?
Let's face it. Lilla Rose flexi clips look awesome in the professional model photos. No Stylist is going to post the not so beautiful hair style photos, right? A common question, of course, is "Yes, but do they hold during physical activity and exertion?" Clearly they do for model photo shoots.  Let's see what happens when the rubber literally meets the road.
For a bit of evidence that they do hold during activity, I put my flexi clip to the test. I did a fast French twist messy bun, popped in my medium clip which is almost getting to be too small now that my hair is longer, and I put on my walking clothes. I used no styling products in my hair, as is clear in the photo. This isn't exactly my best hair do, or my best color coordinated outfit, but I was in a hurry to get my walk in before April the Giraffe had her baby. I've only been watching her progress for a month, and I don't want to miss the main event.
I went my normal 4.5 mile route in the square of the country roads around my house, with my son and our dog for companions. The difference is that I ran intervals totaling 2650 steps, and I pushed myself a little harder on a couple of them.  I conquered some hills I not so fondly call "Kicking My Tush Hill" or "I Might Die On This Hill" hill. I did get my tush kicked as I ran the hills anyway. Every day I walk/run, I push myself to a go little farther than the last time. The weather was a bit blustery, damp, and misting rain. I had to put my fleece sweatshirt hood on, and I had my winter coat trailing behind because, you know, what isn't stylish about a middle aged person learning to run again wearing a winter coat, alternating between freezing and shivering, and being over heated from exertion?
In spite of all conditions, and my painting a not so beautiful picture of myself, or even sharing my not the greatest photo ever, here is my after run/walk photo: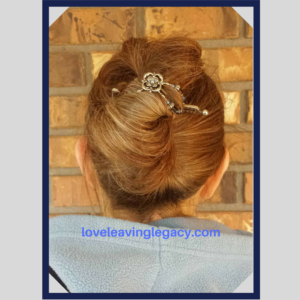 Except for static wispies, the clip held the hair in place. Honestly, my flexi clip held up better than I did.
In short, Lilla Rose flexi clips are perfect for formal styles, casual styles, active lifestyles, and exercise. They even hold better than the average claw clip or elastic scrunchie.
Someone, pass the Ibuprofen and a glass of water, please.
---
It is now April, and there is a beautiful new Flexi of the month, new releases, and a new customer special being released this morning. This is no joke! I'd love for you to check it out.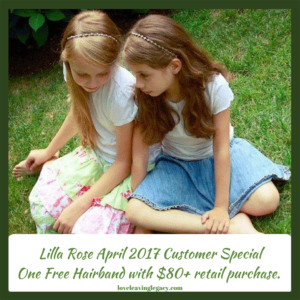 ---
It is now 12:48 am EST on Saturday morning, and April's calf is not born. In fact, April is sleeping and I am not. 
Have a great weekend and enjoy your families! 
Blessings,
Deb