So many times when my older children were younger, I'd wonder if I'd have the brain power to read anything more challenging than Dr. Seuss or Winnie the Pooh. By the time I was reading these books to my 4th child, I had Hop on Pop and many others memorized.
In honor of Read Across America, though, I've paid some homage to Dr. Seuss.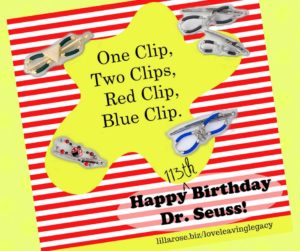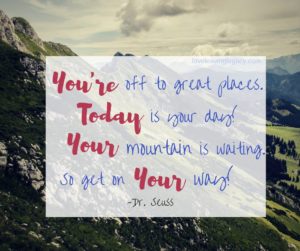 ---
A-Grape was assigned Ramona the Brave last week, and sadly, it had gone missing. I ordered her a used copy, and it arrived yesterday. As she took it out of the poly bag that it was shipped in, I inquired as to its condition. Her reply "It's better than ours!" Because, as the youngest child of six, all voracious readers, by the time the books get to her, they are VERY used and worn, and our copy of this book had disappeared anyway. It's in an invisible state at this point, so anything is better than that if one really wants to read the book.
She makes me giggle.
She read Ramona the Brave in one afternoon, and has gone on to read it and Socks by Beverly Clearly for the upteenth time again today too.
---
Now that the children are older, my grown up book tastes are returning. I even have begun reading books that pertain to growing my brain! As I've talked about business growth, goals, my vision board, one area that I've mentioned having goals is the area of Recreation. I've set a two book/month goal. These books also cross over into my Business Growth goals, and are part of training.
In January I read Go-Giver Leader,  and Go-Givers Sell More (affiliate links) by Bob Burg. These books are story form books about providing service and value as leaders to team members, as well as providing them with tools for success, and how to give value to customers so that they want to continue to do business with you. Keys are building trust as a seller demonstrates knowledge but cares first for the needs of the customers. These keys are within the context of five areas. These books seem to go against the grain of the Go Getter mentality often found in sales, but through my own experiences, I'm finding the idea that caring, service, listening to customers and those I'm serving are paramount to a referral business and to having repeat customers.
In February I read Build It Big by the Direct Selling Women's Alliance, and Success Secrets of a Million $ Party Girl by Lynn Bardowski. (affiliate links) In her book, Lynn Bardowski defines "Visionista, noun: A woman who knows who she is, where she's going, and guides her tribe of Leading Ladies to the top." She shares her own journey as a leader through successes and failures, and empowers the reader to take the steps necessary to keep plugging along to building a "Visionista" business. She is real, down to earth, and shares even the pain and embarrassment of some of her circumstances. Build It Big shares a bit more basic business building and team leading skills, and would be a great gift and resource to someone just starting a direct sales business. It is a compilation of different direct sellers sharing what they have learned as they've built their businesses.
I haven't started my reading for March yet, but the two business books I hope to get through are Build Her Brand compiled by Teresa Garrison, and Living Forward by Michael Hyatt. One of the other books I've had on my list to read for a while, and that I started at the beginning of the summer last year, is Teaching From Rest. I hope to finish that by the end of March too.
All affiliate links. With income earned from affiliate links, we are able to give a portion back to organizations such as Reece's Rainbow in order to reduce some of the financial hardship of adoption by helping to grow the adoption grants of international children with special needs so that they can get adopted. The child whose grant we are trying to grow is Hannahlee. 
---
Before children, I worked as a registered nurse, and I do still keep my license up. With that means that I have to keep up with continuing ed credits also. I love to learn, and I love to keep my skills up. I don't want to let my license lapse in the event that at some point I need to return to the nursing field. In the month of March, I'll be focusing on some of earning some of those credits too, because I'll need to renew my license at the end of 2017!
---
What are some of the books you are reading? Do you read only for pleasure, or for learning? I hope you are stretching and growing and learning too!
Blessings, 
Deb
PS. Be watching for a fun and exciting coming later this week or next! And, don't forget about the Lilla Rose customer special or Flexi of the Month.