The Half Up Knot Hair Tutorial
As I'm waiting to make an announcement, I thought I'd share A-Grape's Friday morning style.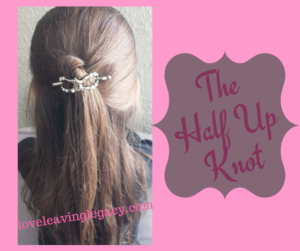 A-Grape has a Half Up Knot this morning, held by last spring's Limited Release of the Bunny flexi clip in an extra small. It took less than 3 minutes to do once her long hair was brushed out. We opted to put her clip through the knot rather than under it, and as much hair close to her scalp as possible in order to fill the clip with hair. What gives the Lilla Rose flexi clips their staying power is being filled with hair.
This is so easy!
See below on how to do it!
See more styles and tutorials on my website under the Sizing & Styles tab. My website is also where you will also find the March customer special, and the Flexi of the Month, only available during the month of March!


How do you like to wear your hair? 
Blessings,
Deb
Are you interested in learning more about the Lilla Rose Opportunity? I'd love to chat with you more.