Toward Vision And Goals With Spring In My Step
There is Spring In My Step! A friend saw crocuses as the snow melted in her yard. The sun has been shining in Michigan the last few days. At the mall where I've been walking, pastel colored items, Easter dresses, and flip flops are on display. I'm stepping, and practically skipping with springiness, toward my Vision and Goals for areas of my life and starting new seasons.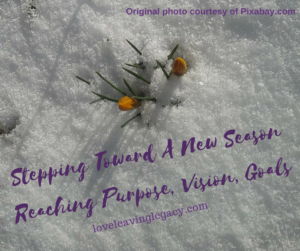 ---
A training  I took recently was talking about a vision board, a vision word, breaking down goals into tiny bite size steps, and breaking down goals for five areas of life-Faith, Family, Business, Recreation, and Self-Care/Health. She recommended making a collage with pictures and words cut out of magazines.
I've heard the Vision Board/Word idea in the past, and honestly it sounded like busy work and clutter to me. I don't want a vision board collage of magazine pictures and words hanging on my wall. Ick. I equate that with the dreaded and useless paper plate crafts done to whittle away time in preschool Sunday school classes.
But, I was hearing enough of theses ideas from enough different business experts, that I decided there might some merit to the idea, and that maybe I needed to implement those ideas in a way that is more suitable to my style.
Words like Build It, Solid Foundation, Team, Boldness, and Goals were some of the words circulating in my head.
A friend sent me the book Build It Bigger, and my son, Mechanical M, gave me a Build On! mug, which also has some fun knock off building bricks. (Side note: Not all versions of the mug contain a teeny building set, however. And this is an affiliate link.)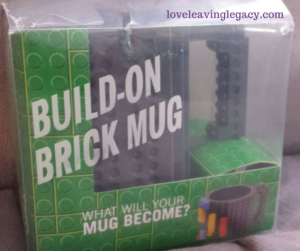 Brick by brick, I've been building.
---
I've been wanting to share the Vision Board I discussed in early January. I was waiting for my graphic designer and fitness partner, my 17 year old son, who works nearly for free, to help me finish it. He is a high school student involved in studying and completing his own list of priorities. This project was not top on his list.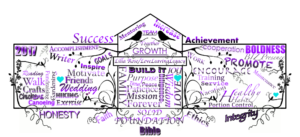 ---
In January, I did accomplish several of my goals. In the area of Recreation (and mental health) I was able to finish three crochet projects which I demonstrated on FB Live.
Doing FB Live is a Business goal met too! I read a couple of business building and leadership books, attended trainings, and I did my first blog Giveaway! I have a VIP customer group for my family, friends, and registered customers, and a new group for sharing the Lilla Rose business opportunity. If you are a registered customer, I invite you to request to join!
In the area of Self Care/Health, my goal is to lose three pounds/month until July. The plan was to walk 3 miles, 3-5 times/week. One month ago, I started keeping a food journal and I began keeping track of measurements. In one month,  I'm actually walking 4-5 miles 4-5 times/week. I've lost all that I regained during the holidays, plus 3 more pounds, and I've lost 1-1.5 inches in different areas. This week I began strength training, too. My goal for February is to walk those 4-5 miles 5 days/week more consistently and in less time, with 2-3 sessions of added strength training each week. I won't lie. This is taking more time than I would like or can spare, and it's hard! I have blisters. But, I'm sleeping better, have more energy, and drinking less coffee, so staying positive.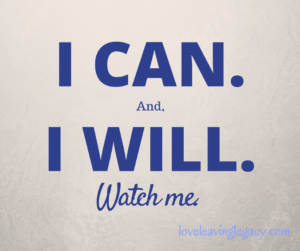 And, YAY! For added bonus, I had my monthly massage and bi annual hair trim!
---
Little by little, brick by brick, I'm Building It with a Limp in My Step From the Blisters on my Feet  Spring In My Step, and stepping toward goals in business, health, recreation, our family is growing in many ways, and these areas are challenging me as I'm building my Christian faith.
In their hearts humans plan their course, but the Lord establishes their steps. Proverbs 16:9
How are your 2017 goals shaping up?
Are you accomplishing Putting Spring Into Your Step Toward Your Vision?
Here is an example of Lilla Rose/LoveLeavingLegacy's Monday night Facebook Live at 5.

Blessings,
Deb
---
There is a Lilla Rose sale on select Limited Release products with Free shipping on retail orders $60+ through February 17, 2017 at 11:59 PST.  Don't miss the customer special, too!