We Are Not Promised A Tomorrow: Cherish
Sunday morning, 1/29/17, my husband received a phone call from our son stating rather matter of factly that he and his brother had been in an accident while driving to band practice before church started. They had slid off the road and hit a tree. They wanted to know if he could come while they waited for the tow truck to arrive. Our son was sure his car was totaled, but he and his brother were not hurt, he said. We were concerned, but not alarmed, and quickly made the plan that he would go help the boys navigate the business end of the situation, and the girls and I would head on to church as planned.
I put out on Facebook the seemingly over-protective call for prayer. This was probably just a minor issue, after all.
Ten minutes later, my husband messaged me: "I think I'm going to take the boys to urgent care, just to be safe. It was a side impact, and the air bags did not deploy." I replied "Good idea. Better to be safe. I worry about concussions and neck injuries." <the nurse in me escapes>
With worries beginning to niggle at my gut, the girls and I prepared for church.
My husband sent photos to me of the accident scene. They would not open for some reason. <God> They came later, as my husband was not in a cell service friendly area.
A-Grape, our profoundly wise eight year old, with elephant tears in her eyes shyly came up behind me. "Mama," she said, "is worrying a sin?" *gulp*
As we drove down the same country road our sons had driven to get to church, as my husband had driven to get to the boys, noting that the road did not even seem that treacherous, I said to our girls "I know that worrying is considered a sin, because it *can* reflect a lack of faith. Are you worried about your brothers?" A-Grape said she was. I said "You know. So am I. I'm concerned about their health, and whether or not they are injured, because I love them. I know that you love them too, or you wouldn't be so concerned. But A-Grape, loving concern for your brothers and worry are not the same things.
Let's talk about the things we know about God and faith. We know that God loves the sparrow. We know that He knows the very number of hairs of your brothers' heads, because He created them. We know that God loves your brothers even infinitely more than we do. We know that He wants what is best for them, and that even in an accident He holds them in the palm of His hands. He will only allow to happen to them that which is for their good, because He wants the very best for His children. When we rest in that faith, we have peace.
We have much to be thankful for this morning, and we ought to be giving the Lord our praise. He deserves our praise and our gratitude, because your brothers are not hurt, and they could have been seriously injured.
If we are sinning by worrying, we will ask God for forgiveness, and we will work on continuing to build our faith in order to honor Him. Let's not wonder right now if we're sinning by worrying. Let's instead praise and worship the Lord for His goodness, and rest in His peace."
We cranked up praise music. I was sure the tow truck would have taken the car by the time we reached it, and I was blissfully naively confident that we'd passed it, and weren't even aware of where the accident had occurred. We went up the final hill toward the stop sign. The hill is difficult to climb when icy. If you don't have some speed, you might not make it up the hill. We crested the top of the hill, I took my foot off the gas of our SUV, and there it was.
The scene. The car. My boys.
I slid on the sheet of black ice as I slowed, not sure I'd stop before I hit our van. I did stop.
I pretended that I was unfazed by the sight: the car hugging the tree on the passenger side, the popped tires. the sizeable dent on the driver's side that had me perplexed. I hugged my boys tight, questioning them as to how they felt. They assured me they were fine, although both were pale and seemingly on auto pilot. The tow truck was just arriving, and A-Grape had gotten a chance to see that her brothers were okay.
We hopped back into the SUV, and drove on our way to church. I cranked up the praise music for the girls, and said to A-Grape "See? All is well."
Are not five sparrows sold for two pennies? Yet not one of them is forgotten by God.

  Indeed, the very hairs of your head are all numbered. Don't be afraid; you are worth more than many sparrows. Luke 12: 7-8

---
I sobbed the rest of the way to church. I knew that our faith talk prepared me for what I had to model for our girls-faithful peace in the midst of concern. Once I saw the scene, that talk was for me. Once I saw the scene, I also knew it was not a matter of fact minor incident.
Our boys' lives had been spared.
The tow truck driver, the police, and the urgent care doctor all told the boys and my husband how blessed we are. They've all seen the other possible outcomes.
I have my sons to hug again this morning, and they are mostly unharmed.
I was never promised I would have those for the rest of Sunday, or this morning, or tomorrow.
God, in His grace, allowed my boys to walk away from an accident that could have, even should have had a different outcome.
---
I am so so so so grateful for my sons and their life.
Last night, we shared the gift of laughter.
We shared some tears.
We shared a lot of hugs.
We cherished each others' presence.
Today is a Grand New Day, cherishing each other again.
---
Social media and the news outlets are ugly, ugly places right now. We are all watching vitriolic hateful comments all over the place. Relationships are being damaged, and certainly not cherished or valued. Loved ones are going to so far as to disown one another.
Life can be short.
We are not promised a tomorrow.
We are not promised a today.
If some are not careful, they are going to live a life of regret because of those hateful thoughts and words being posted.
I urge you to live a life worthy of the calling you have received.

 

Be completely humble and gentle; be patient, bearing with one another in love.

 

Make every effort to keep the unity of the Spirit through the bond of peace. Ephesians 4: 1-3
CHERISH your relationships.
---
Friends and readers, in honor of my wonderful, godly sons and their cherished lives, I'm beginning a first ever for this blog Lilla Rose flexi clip giveaway.
I will give away an extra small Cherish flexi clip to one winner, shipping included.
Enter to win below.

Fellow Lilla Rose Stylists are ineligible for this giveaway.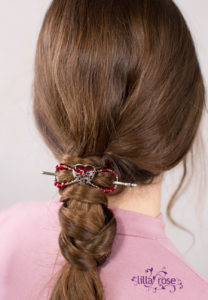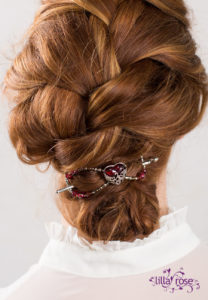 Dear friends, since God so loved us, we also ought to love one another. 12 No one has ever seen God; but if we love one another, God lives in us and his love is made complete in us. 1 John 4: 11-12

Blessings, friends.
Deb