Vision As A Proverbs 31 Wanna Be
I was talking to a more mature, wiser, and seasoned lady at church a few weeks ago. I was sharing with her some things God has laid on my heart. I shared that I'd begun to question what I would do after our last child graduates our homeschool in about ten years. I shared with her that God has been laying a foundation with a new vision and the beginnings of a working plan.
I am beginning to see that God has been training me up as a mentor for younger women to not just be wives, mothers, keepers of their homes, but also to be business owners and entrepreneurs. My own short tenure in direct sales with my daughters at my side has begun to shape up to be something far deeper than for training up my own children. My longer range view of being an entrepreneur/small business owner goes more than ten years into the future.
I've shared that I've been walking the mall. As I walk, I have overheard store employees talking about not getting the hours they were guaranteed at hire, hours being cut, and concerns about paying the bills. In a generation of young people finding it increasingly hard to find and keep jobs, even with college educations, it seems probable that more young women need more grounded older women to mentor them in the endeavor of juggling raising families while working a business.  I shared with my wiser, more seasoned friend that I am yearning to be sure I am prepared as I  grow my team now.
Beginning earlier in 2016, I took many training webinars on how to grow my business, and I implemented many new things and learned new skills. November ended and I missed a few of my goals. Despite this, God very clearly said "Build It On This Solid Foundation. " It was not time for my goals to be met, and with full confidence I know that God is in control and has a plan. He has prepared a way for me to build on a more solid foundation.
---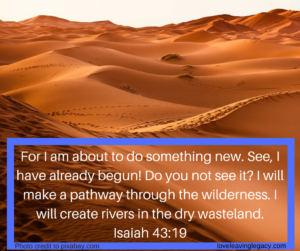 ---
In the vein of Build It On This Solid Foundation, and as a future small business mentor, I know that one message I will always need to impart is that an unmet goal is not a failure. It does not mean I didn't work hard enough, or smart enough. It doesn't mean I didn't have goals or a plan, necessarily. It might simply be a delay. It might be re-calibrate of the goal itself. It not a failure, and women need that validated. That is my first message as a future small business mentor.
Another lesson is this. If anyone tells prospective team member that being an entrepreneur is easy money, they are not giving an honest assessment of the opportunity. Is it an opportunity to join a direct sales business? Yes. Investing in a small business with a small amount of start up money is a fantastic opportunity. It is work. It is investment of time resources and organizational changes with your home. Do entrepreneurs set their own hours? Perhaps. Usually. It might depend on their commitment to their schedule and organization, and they should. To say anything else is not an honest or fair characterization of the opportunity. Honestly, it requires fortitude and perseverance to build a business, and it takes time. This is no "get rich quick."
 

All of us, then, who are mature should take such a view of things. And if on some point you think differently, that too God will make clear to you.

 Only let us live up to what we have already attained. 

Join together in following my example, brothers and sisters, and just as you have us as a model, keep your eyes on those who live as we do. Philippians 3:15-17
And, finally for now, any goals, dreams, plans, priorities a team member has is theirs-not a team leader's. Team leaders don't decide the priorities of other team members. Team members don't work for leaders, and they ought not be referring to them as "my girls." A mentor can help a team member sift and sort through ideas and methods for attaining dreams, goals, or plans, but the mentor does not own these. Nor do they own the work ethic, successes, or mistakes of their team members. Ultimately, it is up to all small business entrepreneurs to catch their own vision in their own time, cultivate it, learn, improve, do the work, and pave their own way to success. Team leaders encourage, equip, and empower their team. They can offer a hand to lift up, and celebrate successes.
"The measure of a leader is not the number of people who serve him, but the number of people he serves." John C. Maxwell
It's 2017. I'm ready to Build It! Who is with me? Join me in this Proverbs 31 Wanna Be entrepreneurship race.
Happy New Year Blessings,
Deb
PS. Coming soon is my new 2017 Vision Board.
---