On Beginning A Business: Advice From Winnie the Pooh & Friends
Yesterday, January 18, 2017, was A. A. Milne's birthday, and national Winnie the Pooh Day.
I enjoyed reading through some of Milne's quotes. Many can be used for business inspiration, so I pulled out a few and had fun making some graphics.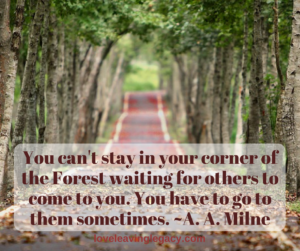 For instance, in order to bloom in business, an entrepreneur or direct seller can't stay hidden at home! Somehow, staying out in front of customers is a must.
How could I get myself out in front of customers?
Be at vendor events selling or presenting a product to customers.
Attend networking meetings or events with other small business owners.
Do in home Style Boutiques. (home parties for some companies)
Do online Style Boutiques or home parties.
Find ways to show the product in use all the time in every day life.
Wear a Luci advertising bag.
Use social media or a blog, which is a key point for a person home bound and running a business.
---
How is a direct sales small business owner different than a chain store?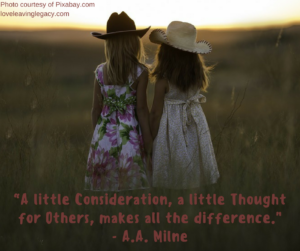 Customer service is personalized. Customers and team members (sometimes known as downline) want to know they are cared for more than a product or an upline's promotion, and, the focus is not solely on sales and profit.
Trust and loyalty needs to be earned.
Who sets the pace for business growth? Is direct sales small business ownership "easy money?" Is it a "pyramid scheme?"
There is absolutely no business that will earn a person "easy money." There a huge difference between filling out some surveys for "easy money" and working a small business. I'd also like to point out that that so called "easy money" is often a scam. I'm telling you–if anyone uses the words "easy money" in regards to business, just run. Any direct sales small business is not going to be a "get rich quick" endeavor.
Building a customer base on trust, and a good working team takes time, effort, and perseverance.
Sometimes growth depends on how many hours a person is willing to work, consistency, experience in presenting and discussing the opportunity, and for how long an entrepreneur is willing to persevere. The river may branch in a different direction within a team or for a team leader.
Just because one doesn't realize progress is being made or as fast as one thinks it should doesn't mean that progress isn't happening.
Pyramid schemes are illegal in the United States. Direct sales is not a pyramid scheme, as there is a product to sell. Direct sales has a real business model, with a potential for growth and promotion within a company by building teams. Read more here from the Direct Sales Association.
---
When is the best time to start a direct sales or small business?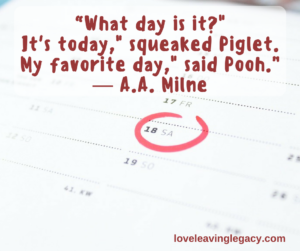 Today, or whenever you are ready, is a great day to get started!
Please, though, count the costs before signing on dotted lines. You want to be able to go the distance and on a firm foundation!
 "Suppose one of you wants to build a tower. Won't you first sit down and estimate the cost to see if you have enough money to complete it?

 

For if you lay the foundation and are not able to finish it, everyone who sees it will ridicule you,

saying, 'This person began to build and wasn't able to finish.'" Luke 14: 28-30
Why does one want to start a direct sales business? What are the goals?
What can one afford without going into big debt? One needs to do homework and do research of different companies, compensation plans, and the market in one's area for the product. Start up costs in direct sales are far lower than those businesses with a brick and mortar building.
How much time is one willing to invest in a new business? What hours and days would one be able to dedicate to its growth? Fifteen to twenty hours to start is ideal.
Is one required to carry inventory, and if so, what are the costs for that?
Would one have monthly, quarterly, or yearly sales minimums?
Would one have to pay for a replicated website?
Would one need to sign up for a newsletter, video making, or graphics designing sites, and if so, what are their fees?
What are costs of display materials for vendor events? What are the costs of catalogs, business supplies, and other business branded needs?
Is one required to sponsor a team? If so, they should know the structure for how that works. Are there minimum sponsoring requirements? Is the person willing to invest in those new team members and understand that as their leader, he/she would have an obligation to assist with their success? If not, refer again to that compensation plan, because he/she is likely paid a percentage of their sales of product. Earning the compensation happens when one helps the business team succeed.
Does one need insurance, to be listed in a business association, or need special licenses?
How will one get trained? Does the company offer trainings, and if so, how often? What books should one read, and which direct sales or small business trainings should one attend at the start? How much money will need to be invested in these trainings? New business owners are investing in their own personal growth as leaders in their field when they invest in training.
I'm sure this list is not exhaustive, and it's not meant to be so, but perhaps it is a springboard for questions to ask as one counts costs of doing business in direct sales especially.
---
As one who had zero intention of doing a direct sales business when I joined Lilla Rose, it never occurred to me to count any of those costs. I had no idea if, how, or where I'd earn an income. I had no plan, no idea what anything would entail. I spent my first eighteen months learning all of the above, and investing in myself to begin to learn. I had a number of Lilla Rose leaders encouraging me and directing me, but a business plan is not anything I'd ever considered. I had asked no questions.
Here are some of the most basic pieces of information in starting a Lilla Rose business.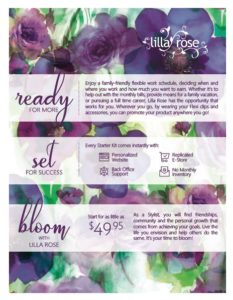 If anyone needs to discuss the opportunity, I'd invite you to reach me at loveleavinglegacy@gmail.com, or on Facebook messaging via my Lilla Rose/LoveLeavingLegacy page. 
Blessings,
Deb
Wise Words on the Lilla Rose Opportunity from the inventor of the flexi clip and owner of Lilla Rose, John Dorsey himself!