Today is the first day of the Reece's Rainbow Miracle of Adoption Christmas Campaign, formally called the Angel Tree. Meet and hear founder of Reece's Rainbow, Andrea Roberts, here. One hundred international children with Down syndrome and other special needs who are waiting for forever families have Miracle Worker Warriors. Miracle Worker Warriors help to raise $1000 adoption grants for their chosen MACC child by December 31, 2016. We also hope to find families for the children, which is the ultimate goal.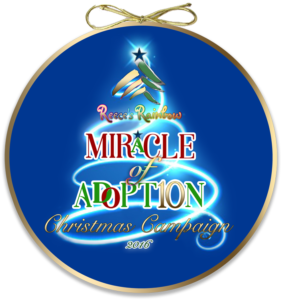 The LoveLeavingLegacy crew chose Hannahlee for whom to advocate and fundraise for the Miracle of Adoption Christmas Campaign (MACC) . She is newly listed on Reece's Rainbow, therefore, she has no grant at all. Today I will add $5 to her grant to kick it off, because it breaks my heart that a five year old child left in an orphanage at a month old has no Mom and Dad, no grandparents, aunts, uncles, or siblings, no clothes or toys to call her own, no hugs, etc, also has NO GRANT. If anyone would like to join me in adding just $5 to Kick Those Zeros to the Curb, thankfulness and gratitude would be the first describing words for how I'd feel.
Also to Kick Off ridding that grant of zeros is a Lilla Rose fundraising Facebook party. I will donate profits from orders from this party link to her grant after taxes and business expenses are taken into account after I receive my commission check during the first week of December. For today only, from 7 AM PST until 11:59 PM PST, there is a Lilla Rose free shipping offer on retail online orders of $50+. There is also a November customer special of free Holiday set bobby pins and purple pouch for orders of $100+ that expires on November 30th while supplies last. Please see the end of the post for details on these offers.
In addition, we are selling these super cool awesome Batman and Superman socks! They are $15/pair shipped, $10/pair will go to the grant.  Message me on my Facebook business page with your email address, home address, and which item and how many you would like, and I will send you a pay pal invoice to pay. There are only about 10 pairs of each style available.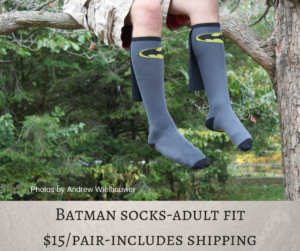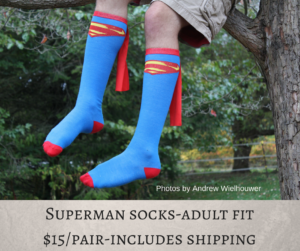 Finally, as always, we have several craft albums on our Facebook business page designated for Reece's Rainbow fundraising. We also have some of the larger items in this Blog's shop. For all of those donated handmade items, 100% of the sale goes to Hannahlee, minus shipping costs, unless otherwise stated.
Thank you for supporting us! There will be more fundraisers to come!
Blessings and with gratitude,
Deb