Trees that are slow to grow bear the best fruit. Moliere (French Playwright, Actor)
This quote probably has more to do with patience than success, except that sometimes success requires patience.
For instance, success requires the patience to develop vision, plans, habit formation, and work ethic.
Patience, in turn, develops persistence, fortitude, and dedication.
There is a willingness to suffer disappointments, failure, and to make sacrifices, all to form the deepest roots for success.
The strength of success in any endeavor is the depth of roots, just like with trees.
"The dictionary is the only place where success comes before work."  Attribution to quote unconfirmed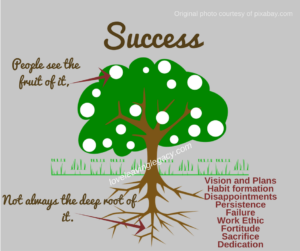 ---
I want to believe I'm successful, but why should my success matter?
What is success?
I am a work in progress. I'm not always good at what I do. I don't always speak kindly. The winds of life blow, and I bend and break. I often need to realign my priorities, my routines, and my methods.
The growth of my business is sometimes slow. There are set backs. Occasionally there are disgruntled customers, and team members who can't work. Some events are fantastic, and some are not.
We have awesome homeschooling days or moments. We have cranky, lazy days.
Sometimes I upset my husband, my children, my in-laws, my parents, and my siblings. I disappoint friends.
I'm working on developing the fruits of the spirit. I press on toward the goal, whether I'm limping along or speeding along. What matters is that I press on and move forward.
There is only failure if I stop trying to develop Christ like character and attitudes. There is failure if I don't choose to learn from my mistakes. There is failure if I stop learning new skills or habits that ultimately would be used to glorify God. There is failure if I believe I have nothing left to learn or to offer to others. There is failure if I don't try new methods or set new boundaries. There is failure if I refuse to acknowledge than an activity I'm doing no longer benefits my growth or that of my family.
Today, especially, I realize I need to say "no" to a few more activities in which I've been participating. I need to realign priorities and set more boundaries.
Does that mean I have failed in an area?
No.
It means I've grown in wisdom and discernment. It means I've stretched and grown and readjusted my path to the ultimate goal of glorifying the Lord.
That is success.
Blessings,
Deb
 For the Spirit God gave us does not make us timid, but gives us power, love and self-discipline. 2 Timothy 1:7
"Now to Him who is able to do far more abundantly beyond all that we ask or think, according to the power that works within us, to Him be the glory in the church and in Christ Jesus to all generations forever and ever. Amen."
‭‭Ephesians‬ ‭3:20-21‬ ‭