On Being a Yes Mom, Part 2
From my last post: "I want to be a mom who says yes to reasonable requests and opportunities that work into our daily life." and "What request can you say yes to today, even if it's not ideal or perfect? On Monday, I'll share an idea and an opportunity! Stay tuned!"
Three years ago this month, I said "Yes" to joining a wonderful company, Lilla Rose, offering me the opportunity to work my own business from home selling beautiful, comfortable, and affordable hair clips that I LOVE to wear!
The opportunity included start up business supplies, product, no monthly quotas or recurring shipping, and no sponsoring requirements. It also included a free website and free priority shipping on the enrollment kit of my choice. I could hardly lose with that deal! My only regret is that I didn't know that I would later wish I'd joined with the Fast Start package!
What started as a low risk, discounted tool to teach my daughters to care for their hair has turned into a family friendly opportunity that also allows me to work with my children alongside me, training them up in the world of home based business and entrepreneurship, and incorporating real life experiences into their academics studies. We're all learning a lot, and we are also allowed to sell our handmade items alongside our Lilla Rose products!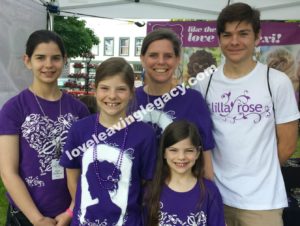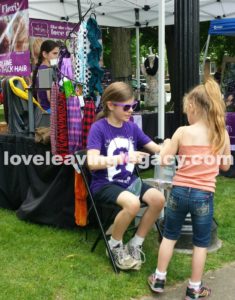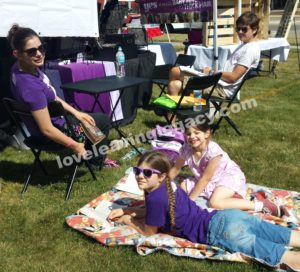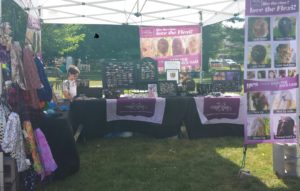 Missy E and A-Grape are starting to do craft shows/festivals and Style Boutiques with Lady L and I too. It was a lot of fun for all of us to work one big festival last fall that earned enough for us rent a house in Gatlinburg, TN, and take a week long vacation. We have been so blessed by this business.
What I didn't know when I joined, either, was the incredible amount of business support both from headquarters, and from our business groups. There are plenty of shared graphics and ideas and free trainings, with encouragement each step of the way. There is no cut throat competition, and the ideal of "Treat others as you want to be treated." is paramount in this company from the owner down to the consultants. It's an incredible blessing and way to learn business!
What other company's owner wears this many hats and is this personable?
Would you like to say "YES!" to this still ground floor opportunity and join under ~6500 consultants in the United States? From July 18th beginning at 7 am PST/10 am EST  through July 31st at 11:59 pm PST, you can join with the same opportunity I was given three years ago: Free shipping on enrollment kits, free website, start up business supplies, product (amount depends on kit purchased), no monthly quotas or recurring shipping, and no sponsoring required. Base commission is 30%. Inventory is not required. You can work as little or as much as your family commitments allow.
Come stretch and learn new skills with me!
You can learn more about enrollment opportunity options by taking a few minutes to watch these videos. Basic party or show kit here:
and Fast start here.
What would the extra money from a low risk business opportunity help you and your family do? I'd love for you to enroll on my team! I hope you'll say "YES!" Message me with questions on my Facebook fan page! 
Blessings from Yes Mom and Lilla Rose Independent Stylist, 
Deb