Last night we were in the ER with our A-Grape who hadn't been feeling well yesterday, but whose fever got very high, she began vomiting, and became lethargic and limp. Our poor sweet eight year old girl was trying to cooperate with doctors and nurses and answer their questions, but she was too weak for even that.
Do you know what I noticed?
No matter what anyone did to her, or how lousy she felt, every single time a medical professional talked to her, or examined her, or even just came in the room,  she said "Thank you."
The nurse brought her a cup to pee in. "Thank you, ma'am."
As the doctor left the room after doing a throat culture that made her gag, she looked at him and said "Thank you."
The phlebotomist poked her with a needle and hurt her, and she said "OW!" but laid still for him. When he was finished filling his vial, she looked him in the eye and said "That hurt! But you were so good at that. Thank you!"
At one point, the nurse stopped what she was doing and said "A-Grape, I've noticed that you keep saying "Thank you." Can I just say thank you for saying thank you! Many adults do not possess the manners which you clearly have."
Nurse Kelsey brought A-Grape a popsicle, and she responded with a huge smile and a big "Thank you!"
And even we, her parents, had the pleasure of hearing our precious daughter say "Thank you, Mommy and Daddy, for being here with me, and for being kind, wonderful parents. *sniff* She even tried to make up little poems. 
Several hours after arriving to the hospital, a new and improved feeling A-Grape was discharged for home.
And, as we walked out of the hospital, every doctor, nurse, tech, or intake person she remembered seeing got a big and hearty "Thank you." as we walked out the door.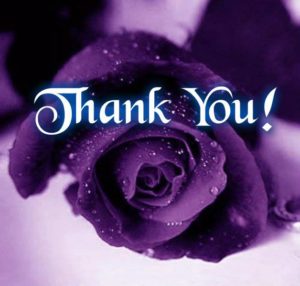 Friends, "many adults do not possess the manners" which my daughter showed last night. Social media is fraught with poor manners, manipulative memes on all sides of any argument, and with folks saying vile things. When I was a little girl, my mother used to tell my brothers and I, "If you don't have anything nice to say, say nothing at all." It seems time for some adults to re-examine what and how they say things, what they post, and perhaps they need to say nothing at all if they can't edify, encourage, live at peace, be patient, strive to do what is good for others, and give thanks from time to time.
Can we all give this some thought and behave at least as well as an eight year old?
Thank you!
Be Blessed,
Deb
Romans 12:18 If it is possible, as far as it depends on you, live at peace with everyone.
Titus 3:1-2 Remind the people to be subject to rulers and authorities, to be obedient, to be ready to do whatever is good, 2 to slander no one, to be peaceable and considerate, and always to be gentle toward everyone.
 1 Thessalonians 5:12-18 Therefore encourage one another and build each other up, just as in fact you are doing. Now we ask you, brothers and sisters, to acknowledge those who work hard among you, who care for you in the Lord and who admonish you. Hold them in the highest regard in love because of their work. Live in peace with each other. And we urge you, brothers and sisters, warn those who are idle and disruptive, encourage the disheartened, help the weak, be patient with everyone.  Make sure that nobody pays back wrong for wrong, but always strive to do what is good for each other and for everyone else. Rejoice always,  pray continually, give thanks in all circumstances; for this is God's will for you in Christ Jesus.