I'm reflecting on Christmas, our family's traditions, and whether or not what we do reflects Christ in Christmas. I keep hearing about Christ being missing from the "holiday." Is He? I have some ideas and thoughts.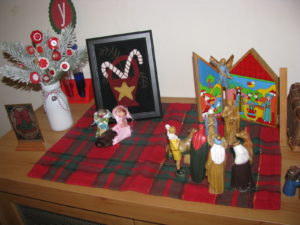 I'll share more soon, but my oldest son, Equine J, is flying home in a few hours, and I need some sleep so I can enjoy his visit.
Our family's campaign to raise $1000 for Esther, a waiting child with Down syndrome in Asia, is on going. We're collecting bottles and cans to return this week. Angel Tree 2015 on Reece's Rainbow ends 12/31, and we're still a little over $300 away from the goal. That's a lot of cans. If anyone would love to make a Christmas donation, we'd sure appreciate it! She's worth so much more.
I pray Esther is enjoying Christmas in family next year. Anyone interested in knowing more about preparing for adopting Esther should read these thoughts and contact Reece's Rainbow to find out where and how to inquire about her. I would love to see photos of her on facebook next Christmas making cookies with her brothers and sisters.
Also, all base commission from ANY orders placed on 12/26/2015 on my Lilla Rose website during the new sale will be donated by 12/31/2015 to Esther's adoption grant.
Blessings during this Christmas week,
Deb