Be Faithful!
Be Hospitable!
Be Generous!
Sell All!
Go!
Stay! (in your neighborhood)
Be Salt and Light (to everyone)!
Do Something!
The messages and commands are a contradictory and graceless assault on my spiritual growth. They are a legalism to be all, do all. If I do one but not the other, I don't love God, and I'm not Christlike.
My head spins.
My heart hurts that I keep falling short by the world's standards.
In my mind, I'm screaming "MAKE IT STOP!"
Do *something.*
What do I do? What *should* I do? How do I know what the right thing is?
Messages meant to motivate faith into action have turned into messages of condemnation.
Faith without action is dead, after all, right? James 2:14-26
Definition: Righteousness is the state of moral perfection required by God to enter heaven.
However, the Bible clearly states that human beings cannot achieve righteousness through their own efforts: "Therefore no one will be declared righteous in God's sight by the works of the law; rather, through the law we become conscious of our sin." (Romans 3:20, NIV).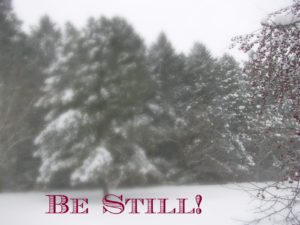 God says:
Be still.
"Be still, and know that I am God; I will be exalted among the nations, I will be exalted in the earth." Psalm 46:10
Rest.
Come to Me, all who are weary and heavy-laden, and I will give you rest. Matthew 11:28
Listen.
As Jesus and his disciples were on their way, he came to a village where a woman named Martha opened her home to him. She had a sister called Mary, who sat at the Lord's feet listening to what he said. But Martha was distracted by all the preparations that had to be made. She came to him and asked, "Lord, don't you care that my sister has left me to do the work by myself? Tell her to help me!"
"Martha, Martha," the Lord answered, "you are worried and upset about many things, but few things are needed—or indeed only one. Mary has chosen what is better, and it will not be taken away from her." Luke 10:38-42
Abide.
I am the vine, you are the branches; he who abides in Me and I in him, he bears much fruit, for apart from Me you can do nothing. John 15:5
So, yes.
Let's put our faith into action after we are sure that we are doing what God has commanded us to do. He might just be asking us to *Be still.*
He doesn't need us to do anything, anyway. He's God. He moves mountains.
He especially doesn't need us to do anything if we are apart from Him and His will.
Are you doing what God has called *you* to do? If yes, then great! Keep following God's plan. If not, consider what He is asking of you.
Be faithful.
In Seeking His wisdom.
In Listening to His word.
In Resting in Him.
In Abide-ing in His word.
And then in Bearing His fruit.
It's a better plan than just "do something."
Peace will follow.
Blessings,
Deb
(This is a republish from my original LoveLeavingLegacy blog.)